Round Teak Garden Tables
Round Teak Garden Table | Round Teak Table | Round Teak Dining Table
Round teak garden tables of outstanding quality, style and value can be found in this extensive collection. These round teak tables are robustly constructed from sustainable, planation-grown teak hardwood and finely sanded, resulting in great durability and aesthetic appeal. This sturdy construction enables the round teak dining tables to remain outside all-year-long with minimal maintenance. Our range of round teak patio dining tables includes a wide variety of different sizes and styles, so you can find the right fit for your setting. Shop now for round teak garden tables.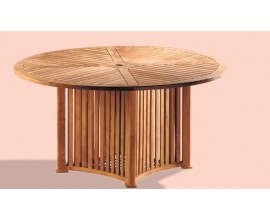 Round Teak Garden Tables
Round teak garden tables are a delightful addition to any outdoor setting. Designed for long-lasting satisfaction, these round teak tables are crafted using sustainably sourced, durable teak hardwood. Our large collection of round teak dining tables includes a wide selection of designs with different styles, sizes and functions. We also provide a bespoke service, allowing you to order a round teak patio dining table with custom specifications. Shop now for round teak garden tables.