Commemorative Benches
Here at Jati, we've been crafting teak garden, commemorative, memorial, and remembrance benches for nearly 30 years. Available in a choice of sizes and styles, our classic memorial benches are designed for comfort and quality – enhancing their surroundings for decades to come, and requiring minimal maintenance so they're a pleasure to own. A commemorative bench is a wonderful and enduring way to celebrate and honour a treasured loved one or special event. Whether you would like a hand-carved inscription or an engraved stainless steel or brass plaque, we will help you to create a personal and meaningful message to enrich your teak bench. A personalised memorial bench would make an impressive and beautiful gift for weddings, anniversaries, birthdays and other celebrated milestones. It can also be a very touching way to memorialise the life of a dearly departed loved one.
If you are looking for an oak memorial bench, have you considered teak instead? Teak is extremely durable and can be left outside all year round with minimal maintenance, eventually weathering to a coveted silver-grey patina.
Below we have listed a number of options that are available to you in creating your very own personalised bench. If you require any assistance or advice, please do not hesitate to get in touch with our friendly sales team who will endeavour to help you create a truly personal remembrance bench.
Engraved Memorial Plaques
An engraved bench plaque is a lasting, tasteful way to commemorate a loved one or milestone, special place, event or occasion. Our bench plaques are available in several different sizes with a choice of fonts so they can be personalised to your specific requirements. Brass is the traditional material for memorial plaques, and stainless steel offers a more modern appearance than brass. Our memorial plaques are available in several different sizes. Featuring countersunk screws for additional comfort should you be placing your plaque on a bench, and a stylish chamfered edge for aesthetic appeal, our custom-engraved plaques are of the highest quality and are a popular choice.
We offer our plaques in traditional brass or contemporary stainless steel to suit your needs. Characters are infilled and stove enamelled in black or white. Our standard sized plaques are 150mm x 50mm, although we can increase the length by 50mm increments on request to incorporate larger amounts of text or graphics.
Choose from these four fonts for your special engraved messages:

Modern a sans serif font for clear and simple messages, ideal for names and dates
Roman a serif font to create a traditional feel suited to quotes and phrases
Informal a playful hand-written style to represent a joyful, light-hearted message
Script a calligraphy style font for a sophisticated and ornate message
If you would like to discuss these options, or if you need any further information or help at all, please give our friendly team a call on 020 8655 6243 and they will be happy to provide any information or advice you require.
Choose your Memorial Bench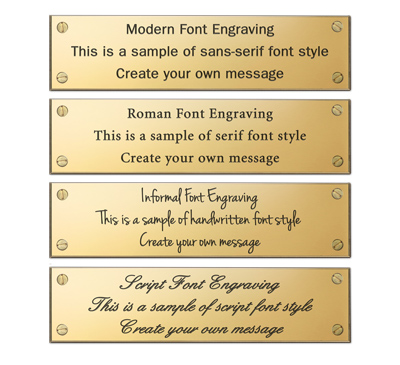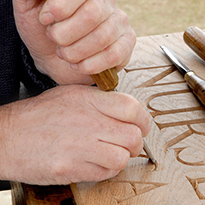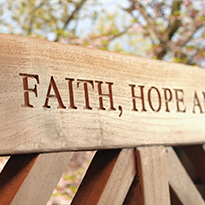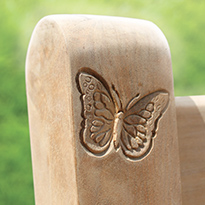 Hand Carved Lettering
Let us carve a line of text to the seat rail or lower seat rail, ideal for longer and more detailed inscriptions. We can also carve an emblem, family crest or business logo into your bench. We are able to personalise your bench to whatever degree you require and beyond the options listed here on the website so contact us to discuss your requirements.
Choose from two beautiful fonts for perfect carved inscriptions:
Modern a sans serif font for clear and simple messages, ideal for names and dates
Roman a serif font to create a traditional feel suited to quotes and phrases
If you would like to discuss the available options in more detail, or need any help at all, please call our friendly team on 020 8655 6243.
Choose your Commemorative Bench
To create your very own personalised benches, our master craftsmen can hand-carve simple text, poems, quotes, and even more complex logos and graphics to your exact specification.
We understand that choosing memorial words for a plaque or carved inscription can be difficult. Our helpful staff are able to advise you on inscriptions ideas should you require a starting place. We are on hand to assist you right from your initial enquiry to delivery and beyond. Our team can help you choose your wording, and can advise on best layouts and fonts to ensure your message is clear and you get the most from your sympathy garden bench.
Simply choose a teak garden bench, choose a plaque or carving and customise it using the real-time preview. We will deliver your unique memorial bench fully assembled to its final resting place, and you can purchase ground anchors to deter thieves if you feel this is something you require.
Personalised Bespoke Benches
If you would like to further personalise your commemorative bench we can also offer the below services:
Font colouring on your plaque, ideal for adding boldness to your message.
Different locations for your engraving or plaque (e.g. seat or armrest).
Choice of style and finish e.g. finely sanded, painted or distressed.
Customisable dimensions e.g. wider arms, wider slats, heightened or lowered seat height, etc.
For further information about how you can create the perfect commemorative bench, please call our helpful team on 020 8655 6243.