Rattan Garden Furniture
All-Weather Wicker Rattan Garden Furniture
This stylish collection of all-weather wicker rattan garden furniture is available in a range of styles and sizes, so whether you're looking for rattan sun loungers, sofas or dining sets, you're sure to find the perfect item for your outdoor setting. Note the craftsmanship of the intricate loom or flat weaves, woven skilfully over sturdy yet lightweight aluminium frames. Choose from a variety of vibrant weave colours - Java Brown, Honey Wicker and Grey Marble - to perfectly suit your personal tastes and complement your garden or patio setting.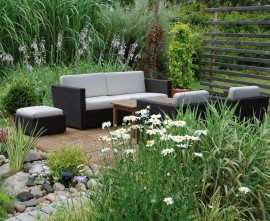 Rattan Garden Furniture
These all-weather wicker rattan garden furniture pieces are expertly woven from synthetic Rehau Raucord® which is an environmentally sound, low-maintenance material offering greater durability and weather-resistance than natural rattan. Our wicker garden furniture is stylish and practical, suitable for indoor use in conservatories, etc., and year-round outdoor use, be it for the home or hospitality sector. If you require all-weather rattan garden furniture in a style or size you do not see here, please contact us and we'll do our best to help.