How Do I Care For Teak Garden Furniture?
As a natural product, teak can vary in colour from light to dark brown. When left outdoors, any variations in colour will gradually even out. If left untreated, your furniture will weather naturally, developing a silvery-grey patina that will blend beautifully with its surroundings.
One of the advantages of teak outdoor furniture is that it requires very minimal maintenance. We recommend washing your furniture annually, a fair and breezy day in spring is preferable, using soapy water to remove any build-up of dirt, bird-droppings or similar. We would recommend against using power or pressure washing tools, though hosepipes can be used with a normal water pressure.
We strongly advise against the use of teak oils, as these can be harmful to the health, longevity and appearance of your teak furniture. High quality, A-grade teak contains its own natural oils, and simply needs to be cleaned periodically. If you would like to add further protection from the elements you could consider using our collection of water-based teak care products.
How Do You Treat Teak Furniture?
Our range of water-based teak care products has been designed to protect, maintain and restore the appearance of your teak furniture.
Teak Protector to preserve the golden, honey colour of your new teak furniture from the bleaching effect of the sun's rays.
Teak Cleaner will help to remove dirt and mildew from weathered teak that's been neglected and restore it to its natural beauty.
Teak Sealer Shield to protect your teak furniture from dirt, food and wine stains, so they can be simply wiped away.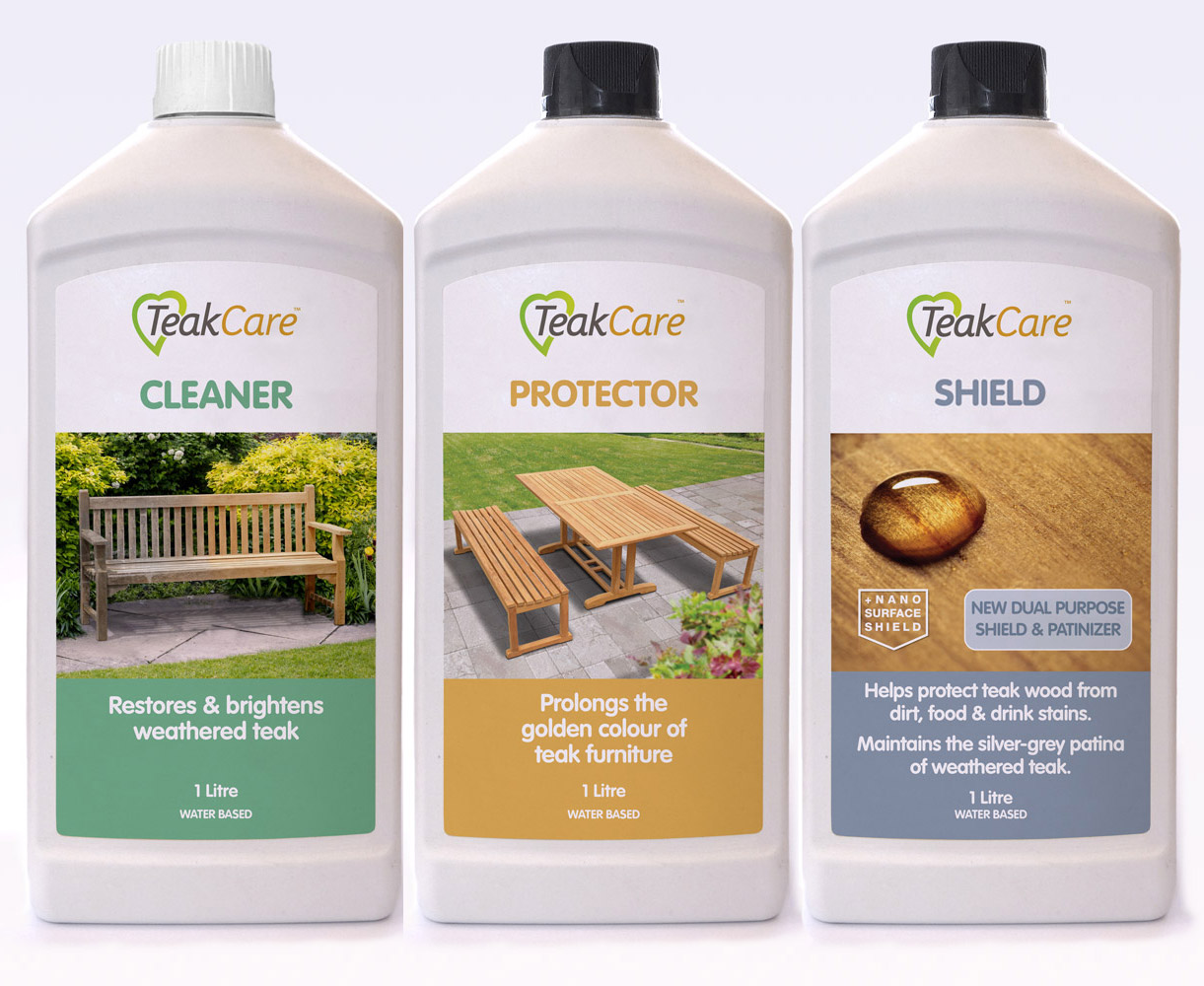 Does Teak Weather Well?
Teak is a tropical hardwood that begins as a wonderful golden, honey brown colour and once exposed to the elements, over time it will gradually weather to a silvery-grey patina. This natural greying process may take several months to become noticeable, or it could start after only a few weeks depending on the environment. Weather can have different effects on the colour of your teak, in drier conditions it will be slower to fade whereas in moist climates it may fade more quickly.
If left untreated, this silvery-grey patina will deteriorate to a dark grey and green colour. Should you prefer to maintain the teak's original honey brown colour for longer, then we would recommend applying our teak protector.
Surface cracks, also known as checks, can appear on the teak, particularly on heavier components and the end grain. This checking is perfectly natural and will not affect the integrity or strength of your teak furniture.
Warranty
Our products are guaranteed for a period of one year from the date of delivery. We warrant that our products are fit for their intended purpose and are free from manufacturer faults or defects. "Defects", as used in this warranty, are defined as imperfections in material or workmanship that will impair the use of the furniture or product.
This warranty does not cover small cracks or end grain checking, which are natural occurrences and do not affect the strength or integrity of your furniture. Should you find a defect in material or workmanship in any part or component, we will repair or replace the furniture free of charge, subject to our terms and conditions.
Under the warranty, we are unable to exchange goods that have been treated, painted or modified in any way, or bespoke items. In these cases we would repair any damage covered by the warranty.
Please be advised that our product guarantee does not cover items that have been shipped overseas.
If you wish to make a claim under our guarantee, please email us images of any product damage together with your order details. We will endeavour to acknowledge your email within two working days and aim to resolve your issue as quickly and effectively as possible.