Richmond Dining Sets
Richmond Dining Sets | Teak Garden Furniture Sets
Dine in contemporary, unrivalled luxury! Manufactured from sustainable, durable A-grade teak, these sets are extremely hardwearing and robust, guaranteed to stand the test of time. These teak outdoor dining sets can be left outdoors all year round and only require minimal maintenance. They will last for years to come, representing excellent value for money. Browse our range of Aero dining sets here.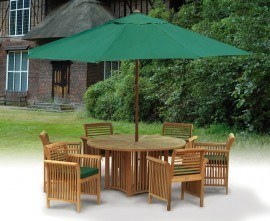 Richmond Dining Sets
Our Richmond dining sets are wonderfully modern and stylish. Featuring unusual pedestals that give these sets their unique charm, these Aero teak dining sets are guaranteed to look great in your garden or patio.