Teak Outdoor Loveseats
Teak Outdoor Loveseat | Teak Love Seat | Teak Loveseat | Love Bench
Teak outdoor loveseats feature a distinct, charming style that makes them ideal for use as an inviting focal point. These teak loveseats have been meticulously constructed from sustainable, plantation-grown teak hardwood using the traditional, time-honoured manner of tight-fitting mortise and tenon joints with teak dowels. This superior construction grants these teak love seats the ability to remain outside all-year-long with minimal maintenance, resulting in care-free use. Furthermore, we offer a bespoke service so you could order a custom teak garden love seat made to your exact specifications. Shop now for teak outdoor loveseats.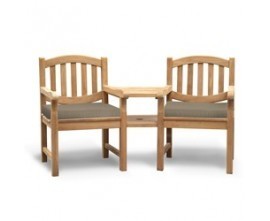 Teak Outdoor Loveseats
Teak outdoor loveseats are charming and intimate pieces of garden furniture that serve as delightful focal points in many discerning homes. These teak loveseats have been expertly crafted using sustainably sourced, plantation teak for superior style and durability. This robust construction means that these teak love seats can be left outside throughout the year with minimal maintenance. These teak garden love seats will gradually develop a silvery-grey patina if left untreated, and will maintain its original golden-brown if treated with our Teak Protector. Shop now for teak outdoor loveseats.