Teak & Rattan Outdoor Daybeds
Rattan Day Beds | Teak Day Beds | Garden Daybeds
Lounge in luxury with our collection of teak and rattan outdoor daybeds - perfect for elevating your outdoor space! These exquisite daybeds are a great way to enjoy being outside, offering a generous seating or laying area and topped off with a sumptuous mattress seat cushion for the utmost in comfort. Bring the comfort of indoors to your outdoors and sit back and relax on one of these stunning daybeds!
Teak & Rattan Outdoor Daybeds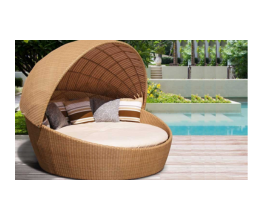 Teak & Rattan Outdoor Daybeds
Browse our range of outdoor daybeds, whether you want chic teak or opulent rattan, we have a daybed that is sure to suit your outdoor needs. You can sit back and relax in absolute comfort, the only problem will be trying not to fall asleep under the sun!