Teak Companion Benches
Teak Kissing Bench | Teak Jack and Jill Seat | Teak Companion Bench
Teak companion benches serve as delightful additions to discerning homes with their charming and intimate designs. These teak kissing benches have been expertly crafted using sustainable, plantation-grown teak hardwood for style and durability. Our range of teak Jack and Jill seats features a variety of different styles, each more charming than the last. We also offer a bespoke service for those who wish to have a custom teak Jack and Jill bench made to their exact specifications. Shop now for teak companion benches.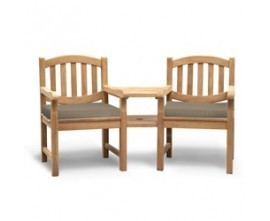 Teak Companion Benches
Teak companion benches are delightful and eye-catching pieces of garden furniture that add charm to any setting. Our wide selection of teak kissing benches includes a variety of charming designs. These teak Jack and Jill seats have been carefully constructed using sustainable, plantation teak hardwood. This superior construction allows the teak Jack and Jill benches to remain outdoors throughout the year with minimal maintenance. Shop now for teak companion benches.