Winchester Dining Sets
Winchester Dining Sets | Teak Garden Furniture Sets
Beautifully handcrafted using the finest grade-A teak and traditional mortise and tenon joints, these Winchester dining sets are exceptionally hardwearing and have been built to stand the test of time. These sets can be left outdoors all year round with minimal maintenance so you can spend more time enjoying your furniture and less time caring for it. Browse our range of Winchester teak dining sets today.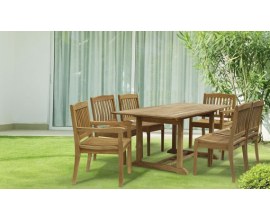 Winchester Dining Sets
Our Hilgrove dining sets are simple, stylish and sturdy and they'll look great in any outdoor setting. Available in a range of different sizes and styles, you're sure to find the perfect teak dining set for your space.