Teak Adirondack Chairs
Teak Adirondack Chairs UK | Teak Wood Adirondack Chairs
These teak Adirondack chairs are expertly manufactured from sustainable, durable grade-A teak. These Cape Cod chairs have been built to the highest sec from the finest hardwood so they're guaranteed to last you for decades of pleasure and comfort. Requiring little-to-no maintenance, these teak Adirondack chairs can be left outdoors all year round, representing excellent value for money. Create a stunning focal point for your outside setting as well as a haven for relaxation in the sunshine with your very own Cape Cod chair.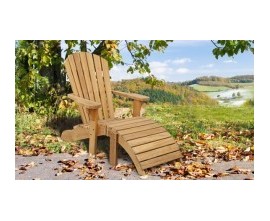 Teak Adirondack Chairs
Teak Adirondack chairs, also referred to as Cape Cod chairs, Westport plank chairs or Muskoka chairs, feature deep seats and sculpted, wide armrests guaranteeing your comfort for hours on end. Originally designed to take in the views of the Adirondack mountains, you can take in your very own serene surroundings from the comfort of these Cape Cod chairs. Consider these teak Adirondack chairs if you're looking for an unusual focal point for your garden, porch or patio.