6-Seater Bench Cushions
Large Bench Cushions | Long Outdoor Cushions | 8ft Cushions
These 6 seater large bench cushions are made from fade-resistant polyester with luxury foam fillings for your comfort. Although not entirely waterproof, these long outdoor cushions are showerproof and can be left outside throughout most of the summer season. We also manufacture bespoke, made-to-measure cushions on request – call us on 02086556240 to discuss.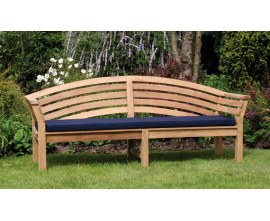 6-Seater Bench Cushions
These large bench cushions provide a colourful, comfortable finishing touch for your garden furniture. These long outdoor cushions are finished with zip-fastenings to allow for easy removal and cleaning of the covers. These 8ft cushions are available in natural/ecru, raven black, forest green, navy blue or taupe. Consider these large cushions for a sense of style and luxury for your 6 seater bench.