Octagonal Table Sets
Octagonal Garden Table and Chairs | Octagonal Dining Set
Octagonal garden table and chairs will add a contemporary element to your garden or patio. Crafted from SVLK-accredited grade-A teak, these octagonal dining sets can be left outside all year round in all weather conditions. Built to stand the test of time, these dining sets are rot-resistant and require minimal maintenance. View our octagonal table and chairs here and order online or contact us to discuss any bespoke requirements you may have.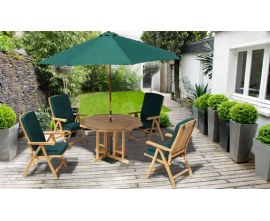 Octagonal Table Sets
These octagonal garden table and chairs sets are a neat alternative to their square and round counterparts, adding interest and understated style to gardens and patios. With a wide range of sizes and styles available, choose from our selection of wooden octagonal dining sets, crafted from sustainable teak, to find a modern and practical alfresco dining solution for your space.