St. Moritz Dining Sets
St. Moritz Dining Sets | Garden Patio Furniture Sets
These St. Moritz dining sets have been manufactured to the highest spec in the finest grade-A teak and expertly handwoven synthetic Rehau Raucord® rattan that looks and feels as gorgeous as wicker but is more durable and weather-resistant. They can be left outdoors all year round no matter the weather and require virtually no maintenance. With a range of sizes and styles to choose from, our St. Moritz dining sets are sure to catch your eye!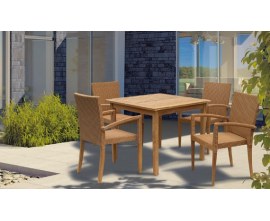 St. Moritz Dining Sets
We're proud to present our St. Tropez range of dining sets. A stunning focal point in any indoor or outdoor setting, these dining sets are the height of luxury, comfort and style. Browse the range now to find your perfect dining set.