Gladstone Dining Sets
Solid Garden Table and Chairs | Gladstone Teak Dining Sets
Our solid garden table and chairs have been robustly constructed to the highest spec from sustainable, durable A-grade teak. These teak dining sets can be left outdoors all year round no matter the weather so they're available for impromptu alfresco dining at any and every opportunity. Browse our Gladstone range of outdoor dining sets today to find something you can enjoy for years to come.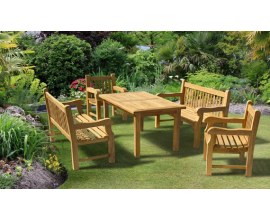 Gladstone Dining Sets
These solid garden table and chairs sets are sturdy and robust without compromising their rustic, elegant charm. Our Balmoral range of chunky teak dining sets are perfectly suited to any indoor or outdoor setting and will create a stunning focal point as well as a social and comfortable alfresco dining solution for friends and family. Browse our solid garden table and chairs and order online or contact us today.