Lutyens-Style Tables
Lutyens-Style Coffee Tables | Decorative Coffee Tables
These Lutyens-style coffee tables are beautifully handcrafted from durable, sustainable grade-A teak. These Lutyens-style garden tables are incredibly hardwearing and long-lasting. They can be left outside in all weather, or of course you can use them indoors if you prefer. For second-to-none quality that will last you for years to come, browse our range of Lutyens-inspired teak coffee tables today to find the perfect outdoor coffee table for your setting.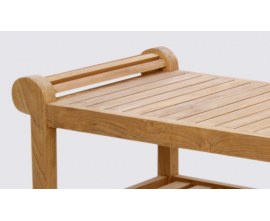 Lutyens-Style Tables
Consider these Lutyens-style coffee tables for a touch of elegance and sophistication. These Lutyens-style garden tables are perfect for completing the look if you have other Lutyens-style furniture. These outdoor teak coffee tables feature elaborately scrolled sides and they're sanded to a silky, luxurious finish for aesthetic appeal. View the full range below.